Books & Links
<![if !vml]>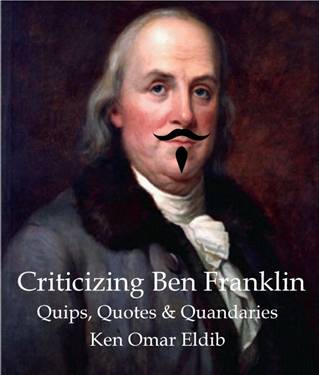 <![endif]> Paperback (Sept. 8, 2010)
Criticizing Ben Franklin: Quips, Quotes and Quandaries
by Ken Omar Eldib
(Available in Paperback and Kindle Edition)
Quips, criticism, observations, common sense or nonsense... you decide! My desire is to encourage people to think instead of to agree, and to trust their own eyes and ears, instead of someone else's words. When I set out to critique Ben Franklin I thought it would be a lonely task, after all, Ben's a historical giant and one of our most sacred cows. It didn't take long to discover he's been criticized by many people before me... it also didn't take long to realized that Mr. Franklin was indeed a great man!
Product Details Paperback: 230 pages Publisher: G T C Press Company (September 8, 2010) Language: English ISBN-10: 0966559835 ISBN-13: 978-0966559835 Product Dimensions: 10 x 8 x 0.5 inches Shipping Weight: 1.3 pounds (View shipping rates and policies) Average Customer Review: Be the first to review this item
Writings of Josephus (Coming soon)
Antiquities of the Jews (Soon to be available in Paperback and Kindle Edition)
War of the Jews
Flavius Josephus Against Apion
Josephus's Discourse to the Greeks concerning Hades
Gnostic Gospels (Coming soon)
Gospel of Mary (recovered in 1896)
Gospel of Thomas (versions found in Oxyrhynchus, Egypt in 1898, and again in the Nag Hammadi Library)
Gospel of Truth (Nag Hammadi Library)
Gospel of Philip (Nag Hammadi Library)
Gospel of Judas (recovered via the antiquities black market in 1983, and then reconstructed in 2006)
Marriage Vows 2000; The New Marriage Contract For The Next Millennium Author: Ken G. Wolf
Marriage manual that helps couples prepare a new kind of marriage contract designed to improve their prospects for a long happy marriage. It includes over 150 topics that engaged, or even married couples should consider and discuss, in order to be happier together. Also includes a sample New Marriage Contract that can be filled out by the couple so that they can define their individual and joint marriage rights, responsibilities and expectations. ISBN-13: 9780966559804 ISBN-10: 0966559800
Publication Date: 1/18/1999 Pages: 152 Publisher: GTC Press Co.
Book Reviews Anonymous reviewed 6/22/1999... Informative and well written Well, I think this is a decent book and easy to read. Most of all I liked the unusual sections, on things like; cloning, body piercing and other futuristic subjects. In the future, I think most marriages will be structured like this, with a detailed contract to protect the people getting married. This book is way ahead of it's time!
Book Reviews Anonymous reviewed 5/8/1999... This book is pretty unique, I've never read one like it. I found this book to be informative and full of good creative ideas that will help me when I get married. The range of subjects covered was very broad and covered a lot of things that will be essential for my fiancÚ and I to discuss before we get married. I especially liked that there was a sample marriage contract, since I haven't seen anything like that elsewhere. Overall I would give this book a very high rating because it might help a lot of people work out problems ahead of time. It also might help some people change their minds about getting married before they go too far!
Book Reviews Sarah Deer of Saint Paul, MN USA reviewed 9/7/2000... Not for feminists! On the whole, I thought this book provided a good overview of topics to discuss prior to marriage -- particularly for couples who plan to have children. Even for those couple who don't plan to have children, this book offers a comprehensive list of topics to at least discuss prior to making a life-long commitment. However, as a feminist I was dismayed by some of the politics and opinions that the author opined. For example, the author says that women should submit to their husbands sexually "as often as possible" so as to avoid adultery on the husband's part. While the author does go to some length to discuss the absolute prohibition of domestic violence, I felt his opinion that women should submit sexually to their husband's needs was somewhat contradictory. In addition, his comments about unplanned pregnancies ("unborn child") left something to be desired. However, if you don't find these issues important or are willing to overlook them, you might find this book useful.
Editorial Reviews
Rich Angell, former Editor, The Guardian Angell
"The concept is timely, needed...a great concept!"

R.F. Doyle, The Liberator
"This book lists roughly 100 items for engaged couples to consider before marriage. Many of these items are important, some are not. But all should be examined."

James F.X. McLoughlin, Publisher/Editor, Full Time Dads Magazine
"Finally a marriage handbook, written not by a disinterested third party, but by the participants...The parenting related sections are a must-read for any and every couple..."
<![if !vml]>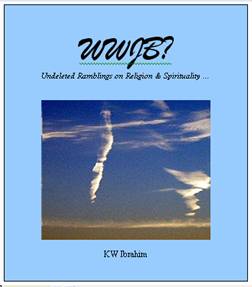 <![endif]>
WWJB? Who Would Jesus Bomb... Undeleted Ramblings on Religion & Spirituality
Author: KW Ibrahim
ISBN-13: 9780966559828 - ISBN-10: 0966559827 Book Type: Paperback
Publication Date: 2007 Publisher: GTC Press Co.
<![if !vml]>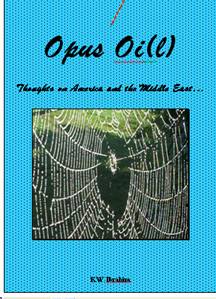 <![endif]>
Opus Oil - Thoughts on America and the Middle East

[Paperback]
KW Ibrahim (Author, Illustrator)

(

Publication Date:

Jan 3, 2007)

ISBN-13: 978-0-9665598-1-1 Publisher: GTC Press Co.

SRSR the Book (Coming soon...?)

UCGR (UCGR) an offline, online church

Contact the AdMinister globltrade@aol.com