<![if !vml]>

<![endif]>
<![if !vml]>

<![endif]>
Available Emblems of Belief for Placement on Government Headstones and Markers
EMBLEM

01


CHRISTIAN CROSS

02


BUDDHIST (Wheel of Righteousness)

03


JUDAISM (Star of David)

04


PRESBYTERIAN CROSS

05


RUSSIAN ORTHODOX CROSS

06


LUTHERAN CROSS

07


EPISCOPAL CROSS

08


UNITARIAN CHURCH/UNITARIAN UNIVERSALIST ASSOCIATION

09


UNITED METHODIST CHURCH

10


AARONIC ORDER CHURCH

11


MORMON (Angel Moroni)

12


NATIVE AMERICAN CHURCH OF NORTH AMERICA

13


SERBIAN ORTHODOX

14


GREEK CROSS

15


BAHAI (9 Pointed Star)

16


ATHEIST

17


MUSLIM (Crescent and Star)

18


HINDU

19


KONKO-KYO FAITH

20


COMMUNITY OF CHRIST

21


SUFISM REORIENTED

22


TENRIKYO CHURCH

23


SEICHO-NO-IE

24


CHURCH OF WORLD MESSIANITY (Izunome)

25


UNITED CHURCH OF RELIGIOUS SCIENCE

26


CHRISTIAN REFORMED CHURCH

27


UNITED MORAVIAN CHURCH

28


ECKANKAR

29


CHRISTIAN CHURCH

30


CHRISTIAN & MISSIONARY ALLIANCE

31


UNITED CHURCH OF CHRIST

32


HUMANIST EMBLEM OF SPIRIT

33


PRESBYTERIAN CHURCH (USA)

34


IZUMO TAISHAKYO MISSION OF HAWAII

35


SOKA GAKKAI INTERNATIONAL - USA

36


SIKH (KHANDA)

37


WICCA (Pentacle)
http://www.cem.va.gov/cem/hm/hmemb.asp
<![if !vml]>

<![endif]>The peace sign...was originally designed for the British nuclear disarmament movement by Gerald Holtom in 1958. Semaphore for the letters "N" and "D," standing for "nuclear disarmament" http://en.wikipedia.org/wiki/Peace_symbols#The_peace_sign The peace sign is disliked by some Christians to whom it represents a broken, upside down cross. It also is said by some to represent the upside down crucifixion of the apostle Peter, as well as possibly being used, or inspired by pagans imagery.

The Ankh, also known as key of life, the key of the Nile or crux ansata, was the ancient Egyptian hieroglyphic character that read "eternal life"... The origin of the symbol remains a mystery to Egyptologists, and no single hypothesis has been widely accepted... Egyptian academics, in particular those at the University of Cairo, aver (sip) that the ankh has been over-interpreted and that it is representative of the pivotal role of the Nile in the country. The oval head is said to represent the Nile delta, with the vertical mark representing the path of the river and the East and West arms representing the two sides of the country and their unification. http://en.wikipedia.org/wiki/Ankh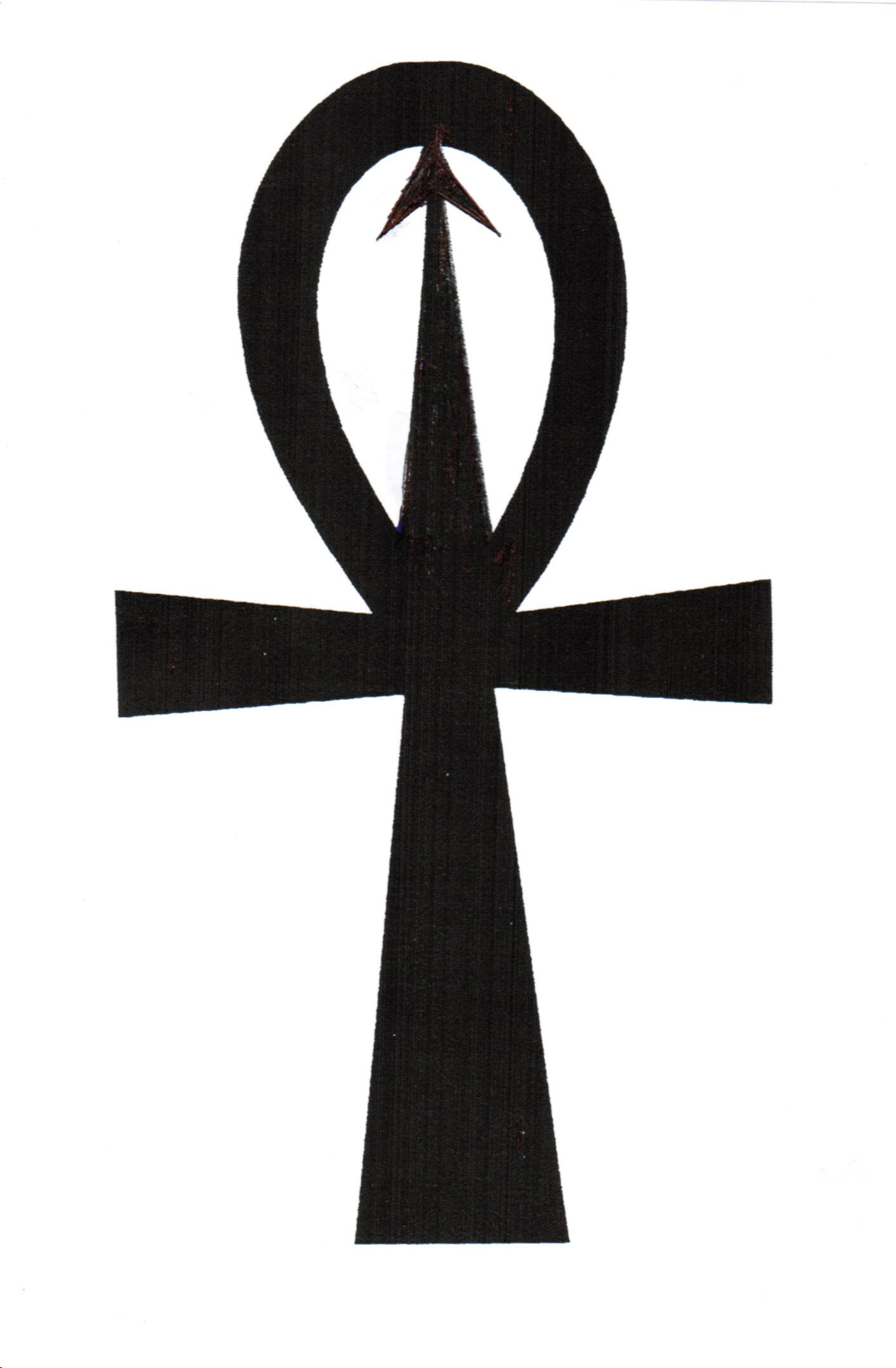 TM
The symbol used by SRSR and UCGR is an ankh symbolizing the key of life encompassing an arrow pointing to the stars. Hand cast pewter UCGRs are available for $ 19.95 plus shipping and handling, please contact the Ad Minister for ordering information.
Contact the AdMinister globltrade@aol.com